3rd Interdisciplinary REASON Winter School 2019
Program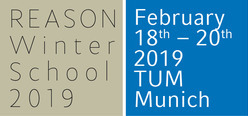 Monday, February 18, 2019
9:00-9:45am

Registration Opens

6th Floor Foyer
9:45-10:30am

Welcome Session

Lecture Hall 605
Kristina Reiss, Heinz Nixdorf-Chair of Mathematics Education, Dean of the TUM School of Education (REASON)
Frank Fischer, Professor for Education and Educational Psychology, Ludwig-Maximilians-Universität München (REASON)
REASON Winter School Team
10:30am-12:00pm

Opening Keynote

Sibel Erduran

Lecture Hall 605
Opening Keynote
Your thesis as an argument: How are you justifying your claims?
Sibel Erduran, University of Oxford
A doctoral thesis is based on a long journey of learning about the research process. Like Charles Darwin who famously referred to his book The Origin of Species as "one long argument", your dissertation will be based on an argument. From the formulation of the research problem to the development of research questions, analytical tools and evaluation of results, effective use of arguments is critical in thesis development. How do you justify the study of the problem? What claims are you making about what is lacking in the literature so that you are justified in studying the particular aspect? What data do you select to use and why? What reasons do you have for preferring one analytical approach instead of another? Such questions demand that you engage in evidence-based reasoning or argumentation, and that you present your work in a way that convinces the readers of your thesis that you are relying on evidence and reason.
In this talk, I will review some ideas about argument drawing on research findings that illustrate effective engagement. I will draw on some strategies that might facilitate the use of argument in your own work.
Chair: Kristina Reiss (TUM)
12:00-1:00pm

Lunch

6th Floor Foyer & Seminar Room 607
1:00-3:30pm

Parallel Workshops

134 & 140
Teachers' use of scientific evidence based on a nation-wide project
Location: Seminar Room 134
The workshop focuses on the use of evidence by teachers in practice based on our experiences from the IMST project. IMST is a nation-wide MINDT (German abbreviation for Mathematics, Informatics, Natural Science, German, and Technology) learning and teaching initiative in Austria. It represents a flexible support system primarily financed by the Federal Ministry of Education and consists of scientists accompanying teachers in their endeavours to improve instruction.
Based on examples from the report database of the IMST project, we will discuss the forms of evidence used by teachers and some of the major challenges in using and interpreting evidence. We will also extend on an analysis tool from the REASON program to shed light on the ways teachers apply the knowledge they acquired in a university context as well as different types of evidence when solving educational problems.

Konrad Krainer, Professor, Institute of Instructional and School Development, Alpen-Adria-Universität Klagenfurt
Stefan Ufer, Professor for Mathematics Education, LMU
Andras Csanadi, Researcher in working group "Learning and Teaching with Digital Media," Bundeswehr University of Munich

Arguing with and about evidence - exploring two sides of evidence-based argumentation
Location: Seminar Room 140
Before we start talking about evidence-based argumentation a crucial question needs to be addressed: Is there reliable and relevant evidence concerning a specific issue at hand? Only with a substantial research base can we start thinking about arguing with evidence in a specific context or debate.
To answer this fundamental question, throughout the workshop we use the example of effective teaching in STEM education with secondary populations. We then explore ways of communicating this evidence base into practice along the case of the Clearing House Unterricht project. Thereby we will also touch upon the so-called "prescriptive statements debate" and discuss the contribution that empirical research can make to the discourse about the design of education.
During the workshop participants are introduced to the exploration of an evidence database in a particular area of interest, gain insights about ways to transfer evidence into practice and reflect theoretical / methodological concerns about argumentation at the edge between research and practice.

Andreas Hetmanek, Researcher in working group "Teach@TUM," TUM School of Education
Maximilian Knogler, Researcher in working group "Teach@TUM," TUM School of Education

3:30-4:00pm

Coffee Break

6th Floor Foyer & Seminar Room 607
4:00-5:30pm
Paper Session I:
Evidence integration and decision making
in teacher education
Location: Seminar Room 140
M-1. Developing a video-based learning environment for preservice teachers' diagnostic competences concerning mathematical argumentation
Elias Codreanu and Tina Seidel
Technical University of Munich, Germany
M-2. Fostering the use of evidence from models in science learning: Constructive and example-based scaffolding
Sarah Bichler, Sonya Richards, Lisa Hasenbein, Marcia Linn and Frank Fischer
Ludwig-Maximilians-Universität München, Germany; University of California, Berkeley, USA
M-3. Does a utility-value intervention foster preservice teachers' instructional reasoning for technology-enhanced teaching?
Iris Backfisch, Andreas Lachner, Christoff Hische and Katharina Scheiter
Leibniz-Institut für Wissensmedien, Tübingen, Germany
M-4. Evidence-based practice in teacher education: The role of personal domain variables and expertise among teacher educators
Despoina Georgiou, Anne Wiesbeck, Sog Yee Mok, Frank Fischer and Tina Seidel
Ludwig-Maximilians-Universität München, Germany; Technical University of Munich, Germany; University of Zurich, Switzerland
M-5. Challenges for teacher educators to integrate evidence from educational research in higher education teaching
Annika Diery and Tina Seidel
Technical University of Munich, Germany
Chair: Kristina Reiss (TUM)
6:00-9:00pm

Winter School Dinner

Wirtshaus Maxvorstadt
Dinner
Join us at Wirtshaus Maxvorstadt for dinner with the REASON Winter School attendees.